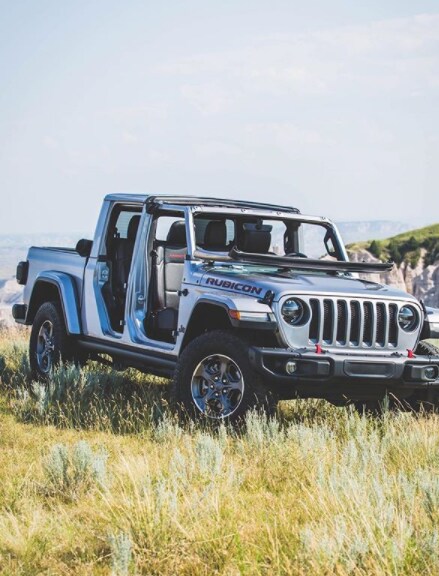 ​
If you're near Warren or Troy and are on the lookout for your next adventure vehicle, look no further than the all-new Jeep Gladiator.
The Jeep Gladiator is leading the industry as the only open-air pickup truck with best-in-class payload and towing. This truck can do almost everything: it is the ideal choice for utility and for adventure.
As a Truck
As a truck, the Jeep Gladiator ticks all the necessary boxes: it has a 1,600 pound payload and it can tow up to 7,650 pounds. The Gladiator also has an added 115-volt power connection, a three-position tailgate, and a roll-up tonneau cover available.
If you're simply in the market for your next truck, consider the Jeep Gladiator. It is just as capable as any other midsize truck and has the unique and standalone design of a Jeep SUV.
As an Open-Air, Off-Road Adventure Vehicle
While the Jeep Gladiator may meet all the needs of a truck, it goes above and beyond with its off-road and open-air capabilities.
With hard and soft top options, a foldable windshield and removable doors, the Jeep Gladiator removes barriers to nature. No other truck in the industry can offer you this combination of practicality and adventure.
No other truck in the industry can offer you the off-roading capabilities of the Jeep Gladiator either. Each Jeep Gladiator in the lineup is fitted with the trusted Jeep 4x4 system for high and low range. Certain trim levels and tire options allow even more ground clearance and dynamic driving to make off-roading as seamless as possible.
As Your Next Vehicle
The Jeep Gladiator is perfect for anyone who is looking for a mix of truck and SUV in one. For drivers looking for more specific features and specs, the Jeep Gladiator comes in varied trim levels like: Jeep Gladiator Sport, Jeep Gladiator Sport S, Jeep Gladiator Overland, and the Jeep Gladiator Rubicon. These trim levels offer added features such as 17-inch aluminum wheels on the Jeep Gladiator Sport S, safety sensing technology with active braking in the Jeep Gladiator Overland, and an electronic sway bar that can be disconnected for off-roading in the Jeep Gladiator Rubicon.
For your next vehicle purchase, consider a Jeep Gladiator. At Village Jeep of Royal Oak we have a continuously updating inventory stock and experienced sales representatives who would be more than happy to schedule you a test drive. If you're near Sterling Heights or Southfield, we are just a short trip away to help you with any inquiries you may have.